For two plus years dangerfish and I have been backing players. We started with the plan of being very selective who we back and providing coaching and support unparalleled by other backing groups. Since we started backing we've worked tirelessly to fine tuned our training program and we've seen significant improvement from the players in our program.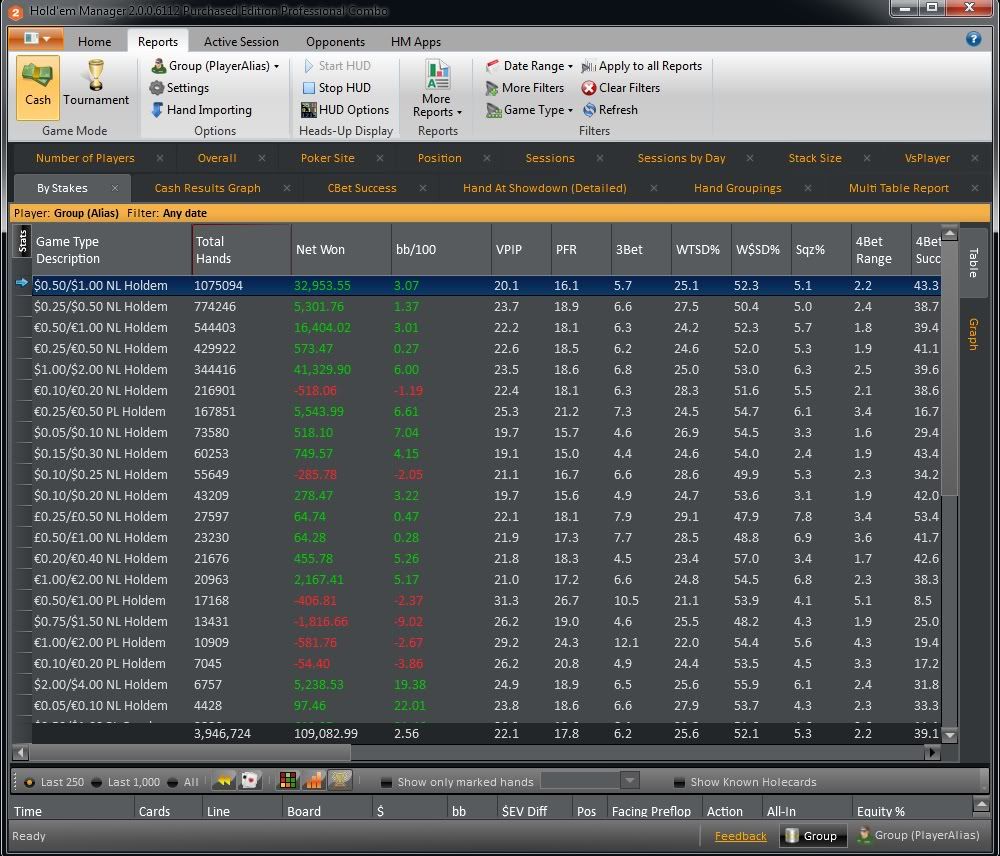 Considering many of our players were struggling when they joined us and the toughness of today's games we're extremely proud of this win rate.
We've had numerous requests from players who want to join the program but play on their own roll. We developed this program in response to that demand.
About us
Dangerfish and I are long time poker players who have made our living from poker for more than 5 years. Along with our head coach Joe Desimone we've played close to 10 million hands of shnl with most of those hands at 200NL and 400NL.
I'm known for my videos on BlueFirePoker, my focus is utilizing stats to increase your edge at the table and using custom filters to break down and evaluate your game in every situation. I also make videos for HM2 and my videos are featured on their front page. Other than the developers I feel confident is saying that no one knows HM better than me. I've probably coached more hours than anyone on the planet and my private coaching regularly has a wait list.
Dangerfish and I have worked closely together for many years, spending hours every week working on our game. Dangerfish is, without a question, the best hand reader I know and an incredibly consistent grinder. He, by far, has done more to improve my poker play than anyone else. Joe has been coached by Dangerfish and myself for hundreds of hours and thinks much like we do about poker. Both are fantastic poker players that can clearly articulate their thought process behind every decision.
What do you get?
I've customized our training program into levels. After a 1,000+ hours of coaching I've found this is by far the best way to improve your game. We get your fundamentals sound and build your poker game on that foundation focusing on high frequency spots that will return the most value. Once those are set then we work on fine tuning the rest of your game.
Level One
Once you're signed up you'll get access to our Level One program. Along with access to our skype chat group and private forums you'll get a video package that presents a detailed game plan to improve your play along with some excellent hand reading videos.
Access to custom HUDs designed by me.
Level Two
Once you've played 25K hands I'll run your database through PokerMetrics showing you where you are leaking money and losing value. You can include (and it's recommended) hands played previous to joining our program. Dangerfish or Joe will have a one-on-one session with you focused on the areas where you need improvement. You'll have access to Level Two videos
Level Three
When you've played another 50K hands I'll do another PokerMetrics review along with a brief video highlighting your biggest issues. Dangerfish or Joe will have a one-on-one session with you focused on the areas where you need improvement. You'll have access to Level 3 videos
Level Four
For each additional 75K hands you play you'll get a one-on-one session with me along with the PokerMetrics review and a follow up session with dangerfish or Joe. You'll have access to our entire video library.
There are several hundred hours worth of videos which are designed to systematically evaluate and improve your game.
From the start you'll be able to form groups with other serious players to review play. Our player interaction is a key component of our training program. Fundamental to our coaching program is dangerfish and I disseminating information to group through videos, coaching, skype and forums and then members of the group discussing and dissecting that information together. It's through the process of articulating concepts and debate that can best achieve a fundamental development in your understanding of poker.
What's the hook? Nothing is for free.
That's true, we're certainly not poker philanthropists. We're doing this to make money.
Two requirements. First, you have to sign up under our affiliate. We have affiliates on many sites, please email at Support@AJacksonPoker.com for a list of sites. Second, we expect a minimum of 15K hands played per month to remain in the program. It's that simple.
Let us know what site you want to play on and we'll send you the sign up information. If you want suggestions, tell us what games you're looking for and how many tables you play.
Just to make it clear. You'll get the advertised rake on the site you choose to play. We don't take a cut of that nor do we take a cut of your profits.
*If you are playing NL25 we'll do the first review at 50K hands and repeat every 75K hands. For levels under 25NL you'll have access to the group and the Level One videos but no individual coaching or Level Two until you are playing NL25.